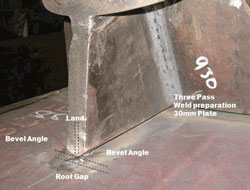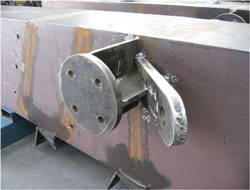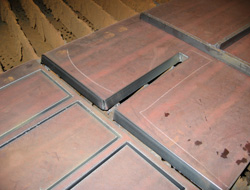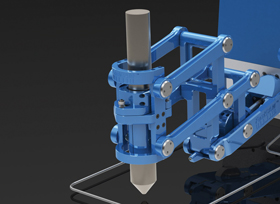 PRECISE WELD PREP - HEAVY PLATE
Weld preparation is on the critical path so customers have always wanted the enormous time and cost saving in fabrication with fully prepared accurate plate parts. It is Y and K bevels that offer the potential to halve welding costs and assembly labour by removing an entire step in the fabrication process. However beveling as a process is not simple. Machines, torches and programming systems are still tested by this type of application which is machining, not rough flame cutting. For many reasons, it just has not worked or has been too expensive or too complex. Where accuracy is required, there are varied inherent problems such as torch height control, special logic for loops, corners, adjustment to kerf, feedrate and more. A small error in the head position, horizontally or vertically means a big shift in the position of the small land formed in a K bevel. Many weld preparations are critically dependent on the angle of the 'land', which is often not 90 degrees.

To complicate matters further, there are multiple ways in which a drawing can be defined. Thus a simple rectangle is not enough. When beveled you have to know if you are looking at the top, the bottom, half way through or even the top on one edge and the bottom on another, with the biggest or smallest rectangle approach. In many cases, the NC programmer has had to tackle problems best left to a welding engineer. If not calculated correctly, you may have a beautiful bevel but on a part which is too big or too small and does not fit.

Such an expert, complex problem required changes in all the cutting technologies to achieve a breakthrough in all the areas: accuracy, simplicity and cost. Combining the latest high definition plasma torches and high power PC based 5-axis controls with a new patented 3-axis, 240v digital FastCAM™ Bevel Head and next generation offline patented software has been the key. Respectively, all have been combined to work as a set to solve the 3D problems of torch, control and head in a proven weld preparation system. The FastCAM™ 3D digital bevel head can tilt 58 degrees from a vertical position for true corners without creating loops on the part. It has three axes of motion in A, C and Z, for simultaneous five axis cutting. It is also equipped with a laser height control, three digital motors and absolute encoders for power off recovery.

Due to demand, we have also made the FastCAM® 3D software available direct to customers to use with other bevel cutting machines however all end user systems are subject to verification, fit-for-purpose requirements and appropriate testing.

FastCAM® 3D Software (only) end user customer pricing is as follows:
FastCAM® 3D Software, $1,999.
FastCAM® 3D Upgrade, $999 (for users of FastCAM® Professional v7).
FastCAM® 3D Bevel Editor, $299. The editor is integrated in our 3D software however we have also made it available as a separate program to enable weld engineers and designers to specify weld data independently and remove the technical overhead from service centers and fabricators.
---
End user Enquiries for machines equipped with FastCAM® 3D patented technology:
OEM Enquiries for FastCAM™ Bevel Head and FastCAM® 3D Software to:
FastCAM® 3D Published Technical Information:

FFJ Interview

AWS Tech Article
Related info: FastCAM, FastPLOT, FastNEST | YouTube demos | Infinity CNC | Patents |User story