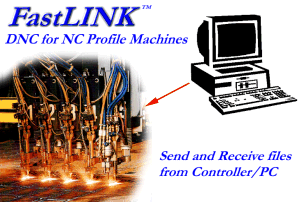 DNC-CNC COMMS
FastLINK™ DNC Software is a specific comms solution for older Burny controllers. As the world's premier control historically, there are still many thousands in use on 2nd hand & retrofitted flame and gas cutting machines used for steel shape cutting.

Note that the more recent Burny controllers do not require DNC as they communicate via TCP/IP (a Network cable) - this is true for most modern controls, however the older controllers each have their own unique communications protocol which requires a comms solution such as FastLINK™.

The program performs the transfer of files by opening and controlling serial com ports on a computer to enable data transfer to CNC machines. It runs in unattended (download) mode which allows the cutting machine operator to download a program which resides on the PC without having to disturb the computer operator. The SERVER mode runs completely in the background under Windows (2000, XP, Vista, 7 and 8).

Note that this is a serial communications program that requires a valid SERIAL port under Windows.

FastLINK™ includes the following features:

Runs in the background under Windows Operating System
Unique Upload & Download directories
Call for programs from the machine control
Simple to operate. It has very few setup parameters depending on the controller.
If you are also looking for ESSI/Word compatible programming software for Burny, consider our flagship product
FastCAM®
which allows you to create parts and handles nesting and post processing. Another benefit of FastCAM® is that it includes
pre-kerf compensation
which saves a lot of time at the controller.
---
FastLINK™ is available through our web store, is for one PC, and is compatible with Burny 1250,2.5/2.5R,3,5,10,10LCD controllers.
Buy $295