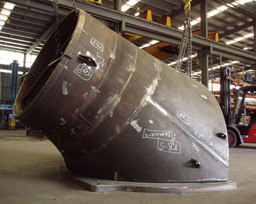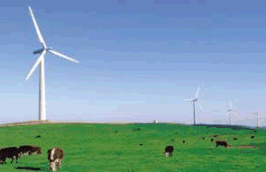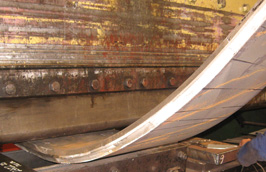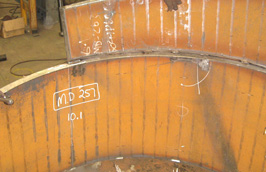 HEAVY PLATE FABRICATION
Heavy plate bending or heavy plate rolling is often used to fabricate mining equipment, railway carriages, structural components for ship building, armoured vehicles, boilers and heavy transport equipment to name a few. Our long experience in this type of heavy plate fabrication makes FastCAM® ideal for this class of specialist work. Pipe branches, transitions, heavy ducting, anything for Hydro-electric, mining infrastructure or heavy fabrication are handled superbly.
Our FastSHAPES® suite of Plate development programs is specifically designed for thick plate development where the main jointing technology is welding. This differs from sheet metal programs in that it considers thickness, seaming, edge marking, bevelling and forming of plates. Application areas include bulk material handling - chutes, fluids, conveying, transitions and transformers as well as 'industrial strength' structures. The common feature of all Shapes is that very extensive and complex 2D patterns for profile cutting are created from a relatively simple parametric specification of a 2D or 3D assembly (i.e. a 'Shape'). Design draftsmen and engineers can use FastSHAPES® to prototype designs knowing that they can be easily fabricated from thick plate and the data can be used extensively in estimating as it can rapidly produce the total material usage for a particular development. There are cones, lobsterbacks, pipe branches, conical branches, power transmission components, sprockets, complex bifircations etc. All comply to international standards.
Our FastSHAPES® CONE program will simplify and reduce the cost of fabricating wind towers and conical structures. In the fabrication of wind turbine towers, steel plates of different thicknesses are to be joined (produced as a series of large cylindrical cans or cones welded together). This requires individual weld edge preparations for vertical and horizontal seams. Joint design can vary at each location in the structure especially with varying material thicknesses in the construction. Maintaining consistency across the entire job is critical to accurate fabrication and difficult to achieve manually to the required standards.
Using FastSHAPES® Cone eliminates the need for transition layout calculations and provides accurate and production-ready flat patterns. Clean geometry DXF output enables you to import the file into your CAD or CAD/CAM system for verification and production. The program automatically produces meaningful data for forming and joining in fabrication.
Combining FastCAM® CAD/CAM Nesting and FastSHAPES® transition layout software offers the maximum in productivity gains:
Easy CAD-free Drawing & Common Cut Nesting plus various types of bridging.
Fast development of large fabricated heavy plate shapes (including multi segmented).
Highly accurate components for weld quality and better fitup.
Full CAD compatiblity including the DSTV format from 3D Structural systems.
Multi-torch and multi-pass cutting.
Multi Format file Nesting.
Production-Ready 3D to 2D Unfolded Flat Patterns fully compensated for Heavy Plate Fabrication.
Parts List information useful for estimation.



---

Related info: FastCAM, FastNEST, FastPLOT, | FastSHAPES | YouTube demos