STEEL ESTIMATING SOFTWARE (Freeware)
FastCAM® MTO™ is a steel estimating spreadsheet program for steel takeoff that simplifies the quotation process. As it stands, many lists are handwritten. Where a spreadsheet is used it's not in a standard way and they aren't able to contain the detail of hand drawings. With FastCAM&reg MTO, you can appropriately capture take off data in electronic format. To automate and improve time to quote, the MTO format can be 'fed' into our proprietary quotation system, however you do not need any other FastCAM® or 3rd party software other than Microsoft Windows.

Simply enter data direct from the command line or use the drop down catalogue list to select sections. The Job Details sections, (Assembly, Drawing, Facility & Item) now have mouse over tabbed flyouts to provide function descriptions. Color coded prompts are used to guide you through the requirements for minimum data entry. A graphics screen is used for visual checking of the data as it is entered and a new diagnosis feature provides data entry Errors & Warnings. In the standard view, the vertical scales are exaggerated to provide clarity. Zoom facilities are provided to allow precise checking of details.

FastCAM® MTO™ data has many uses and you can even go a step further and use the data in an external fully automated quotation system such as FastCAM® QE™ to produce accurate and optimized quotes based on exact stock sizes.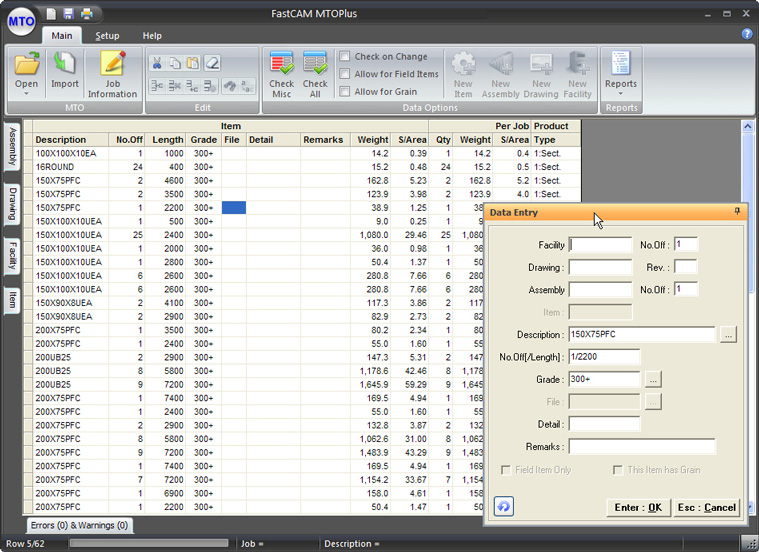 FastCAM® MTO™ highlights :
Imports DSTV/NC1 and DXF/DWG files.
Imports proprietary FastCAM® and FastBEAM™ files.
Inbuilt catalogues for all Standard Sections.
Inch or Metric Data input/output.
Cut/paste to & from Excel, Word and most Window Applications.
Data includes mass and surface area of all items.
Command line data entry for fast predictive data entry.
Powerful reporting allows sorting on multiple fields.
Catalogue editor: Import, update and maintain.
Setup alias names for non-standard sections.
Compatible with other FastCAM® products but no other software required.
Please note that support on this product is only available to paid subscribers of other FastCAM products. There is no service of any kind provided on the free download.
---
Related info: YouTube demos | FAQ's | Press Article | FastCAM QE, | FastBEAM | FastCAM
FREE DOWNLOAD